Radio Channel 77 started operating on 4 October 1991 and is the first private national radio in the Republic of Macedonia. From January 5, 2015 Radio Channel 77 has renewed its nine-year Radio Broadcasting License. Radio Channel 77 is based in Stip at the address: 5th Party Conference 34A, in its own building Multimedia Center Kanal 77 and studio located in Skopje at the address: Franklin Roosevelt No. 4 local 6.
Radio Channel 77 from 01.01.2015 introduced the new radio format with diverse program segments and dynamic music content that is strictly targeted at age and social groups.
Target group of the program Radio Channel 77 are persons from 25 to 45 years of age with a focus on persons between 30 and 40 years of age.
Research by an international French research company EPSOS conducted in July 2018 accurately confirms the audience of Radio Channel 77.

Research conducted by an international company EPSOS in July 2018 showed that Radio Channel 77 is the number 1 radio in the territory of Republic of Macedonia, a favorite radio station between a radio audience and a radio station that enjoys the utmost trust in the audience when it comes to news programming.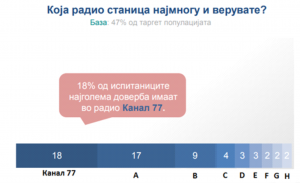 Signal coverage on Radio Channel 77 is on 98% from the territory of Macedonia with special emphasis on coverage of the entire road infrastructure. The distribution of the program is done through Microwave link frequencies 15 and 35 FM frequencies internationally coordinated and protected by the ITU Geneva. The program is broadcast via WEB Streaming and cable operators in Macedonia and the region and is the only Macedonian radio available on satellite via digital IP television Net TV Plus and Total TV  covering all continents.
In addition to radio, program content can also be viewed on our Web site, http://www.kanal77.com.mk/ , and social media: Facebook http://www.facebook.com/Kanal77/, Twitter https://www.twitter.com/Kanal77 (#Kanal77, @ Kanal77) and Instagram.com/Kanal77.
Radio Channel 77 is the only radio station in Southeast Europe that distributes ad messages by system Splitting Advertising on 3 levels: national, regional in 4 macro regions, and local advertising in 10 micro regions.
For the needs of the program, technical maintenance, marketing and current operation of the radio work a total of 45 persons are engaged, and most of the working persons have a high technical education in the field of media work. Radio Channel 77 She is a member of many domestic and foreign international media organizations, and participates in many promotional projects that are of social character and are in the interest of the general public. Our mission is to serve a democratic and open society and to develop civic initiative in Republic of Macedonia.